Thursday 4th of March, from 9:00-12:30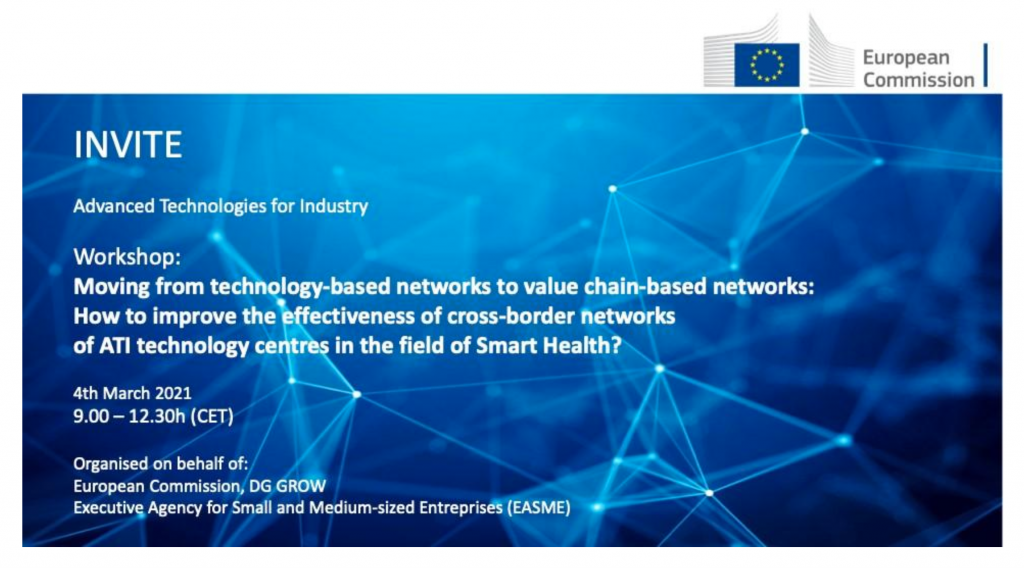 Ended in April 2020, the project PULSE continues to spread its achievements. The European Commission has invited the H2020 project to the workshop "How to improve the effectiveness of cross-border networks of ATI technology centres in the field of Smart Health" that will take place on Thursday 4th of March, from 9:00 – 12:30 CET.
This event will be the fourth in a series of four workshops on cross-border networks of technology centres organised within the Advanced Technologies for Industry (ATI) project commissioned by EASME and the European Commission DG GROW. The ATI project provides a systematic monitoring of technological trends and reliable, up-to-date data on advanced technologies to properly support the implementation of policies and initiatives and finally promote a competitive European industry.
Manuel Ottaviano, Senior Researcher at the Universidad Politécnica de Madrid, will present PULSE objectives, technological assets and key results during the session "Presentation of cross-border networks of ATI technology centres" at 9:30 CET.
Artificial intelligence (AI) is one of the 16 advanced technologies identified by the European Commission for their high potential that will enable and help industries to successfully manage a shift towards a low-carbon and knowledge-based economy. For PULSE, the event will represent an important  occasion to show how the AI models and the supportive technological environment developed within the project can help predict, mitigate and manage public health problems, such as leading to a better understanding of the relationship between air pollution and asthma onset, as well as the causalities between lifestyle habits and the insurgence of type 2 diabetes. Based on the results of projects like PULSE novel value-driven smart health services can be designed ultimately benefitting the citizens and the overall industrial and societal ecosystem involved in their provision.
In general, the workshop will focus on how networks of technology centres can be more effective in satisfying the needs of stakeholders in the healthcare sector, and more precisely in the field of Smart Health, by implementing a value chain approach, being more reactive to market needs and including actors over the entire value chain.
For more information you can click here
Follow PULSE on Twitter