The Digital Healthcare Show London represents two game-changing days of exceptional education, myth-busting, inspirational collaborative case-studies and digital health insight from around the UK and beyond.
ECHAlliance, PULSE Dissemination and Exploitation Work Package Leader, is a strategic partner to this important event, and this year has organized a session on "Big Data and Digital Health successes across Europe".
This panel discussion chaired by Joan Cornet, Director of the Digital Health Observatory of ECHAlliance, had high-level experts as Vladimir Urosevic, Research and Development Manager at the IT Company Belit Ltd in Serbia, Manuel Ottaviano Fellow Researcher at the Technical University of Madrid, both involved in PULSE project and Jonathan Gomez-Raja, Scientific Coordinator of Foundation for Research and Training of Health Professionals of Extremadura (FUNDESALUD), Government of Extremadura (Spain).
Manuel Ottaviano and Vladimir Urosevic presented the overarching concept and goals of the PULSE project as well as its overall technical architecture of the project and the implementation of some of its most important components: i) the app for data gathering and interaction with citizens; ii) the backend services, including communication protocols and servers, data storage, security and privacy; iii) the WebGIS to support spatial enablement and spatial visualization of the collected data. The architecture has been designed to allow the implementation of the final Public Health Observatory dashboard that will eventually show all the integrated information to interested stakeholders and, in particular, help to plan and evaluate Public Health interventions. 
PULSE will come to its end early next year and its results are going to be disclosed in the project website and social media as well via a dedicated Public Health Observatory platform to be launched after summer. The two PULSE partners interacted with the third panellist, bringing on the stage the experience of Extremadura regional health system which is getting fast in implementing Big Data and AI in the clinical processes and the patient care pathways, as well as with the audience.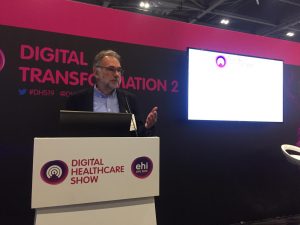 Moreover, the moderator presented an experimental initiative under development by ECHAlliance in collaboration with Health Services Directories Australia and HSD Estonia which aims to improve the knowledge of health statistics by country, as well as mapping health facilities and the main organizations dealing with health innovation around Europe and the part of the world: a digital tool to help member organisations find other like-minded organisations that are active across the globe.